Here at Heritage Horse Drawn Carriages, we are owner-operators who take pride and professionalism in all we do. Our horses are our family and their welfare is paramount to us. Come and learn a little about us.

Steve
A lifelong passion for horses and growing up with harness horses, the last ten years have seen Steve return to the love of his childhood.  Steve was also successful with horsepower of a different nature with showing his classic muscle cars.  His attention to detail and drive for perfection has now turned full circle back to horses.  Steve will be your driver on most occasions.  He will cheerfully give you commentary during your jaunts if you'd like a bit of Hobart history.
Sharon
What little girl doesn't love horses?  Sharon has been involved with horses since she was 8 years old – from competitive dressage to breeding Hanoverian horses to an Official Dressage Judge.  Sharon assists as Groom and also is the Administrative Manager, taking bookings and answering your enquiries.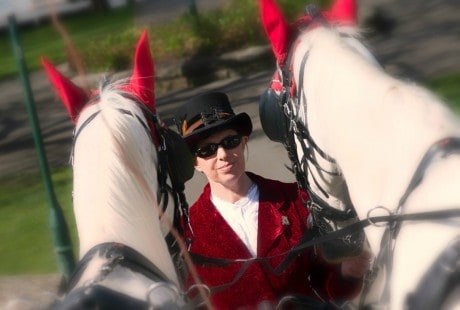 Holly
Holly works with us as Groom/Tour Host during the week.  She's also a recent addition to Tasmania, coming from NSW.  Holly is just fantastic with both kids and horses.  With a background in showing, she'll often plait the tails of our horses just for a little pizzaz.
Valencia Red
Red is a 11 year old Clydesdale cross/Warmblood strawberry roan gelding.  He's from Victoria and has competed successfully at Royal Melbourne Show.  Red certainly turns heads with his visually striking colour and his extravagant movement.  He's big and beautiful with a soft, lovely nature.  He loves his food so don't get between him and an apple!  Red had always worked solo but he's had to learn to work in a pair.   He has incredible stamina and will be seen prancing from the start of the day right through to the end.
Mickey
Mickey and his partner, Soxy, were purchased by us in September 2015.  Previously they worked the carriage tours of Melbourne so Hobart is like retirement for them.  Mickey is a 16.3 bay Standardbred who hasn't made the racetrack but he certainly makes a wonderful carriage horse.  He's a cheeky fellow whose only thought is of when he might get his next treat!  He's got a ton of personality and quirky little traits that you'll see if he happens to be on duty for your ride.  He's definitely a show off.  Look for him in the Blue Eye TV ads.  He's a talking horse to rival Mr Ed.
Soxy
Soxy is just a pure joy to work with.  He's a 18 year old bay Standardbred who is so rock solid and dependable, we consider ourselves very lucky to own him.  He raced 36 times for 1 win and his racing name was "This Man Should".  Fortunately, Soxy was rescued before his racing owner consigned him to a place he was never coming back from.  He's such a gentle, friendly boy and makes a great teacher for the young ones.  Soxy takes no nonsense from Mickey and will discipline Mickey if he's going too fast or not behaving.  Soxy is one of our biggest horses, standing a whopping 17 hands.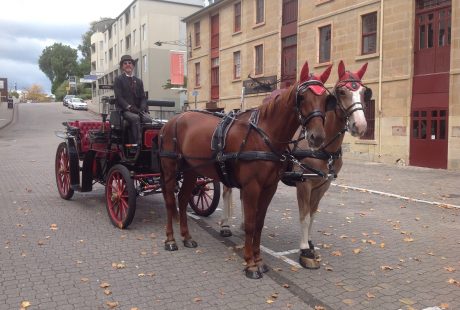 Errol
Errol's the youngest member of our team.  He's a tall chestnut Standardbred who has not long finished a rather successful racing career.  Proving the temperament of the Standardbred is impeccable, Errol has, with very little training, become a valuable member of the team taking incredibly busy Salamanca Market and cruise ship days in his stride.  We pair him with Red but Errol is rather laid back compared to Red's exuberant personality.  In fact, Errol is so laid back, you wonder how he ever won a race!  His racing name was Ponderosa's Gamble.  He's known as Errol due to the fact he's a Tasmanian born and bred horse, named after the one and only Errol Flynn.
Elvis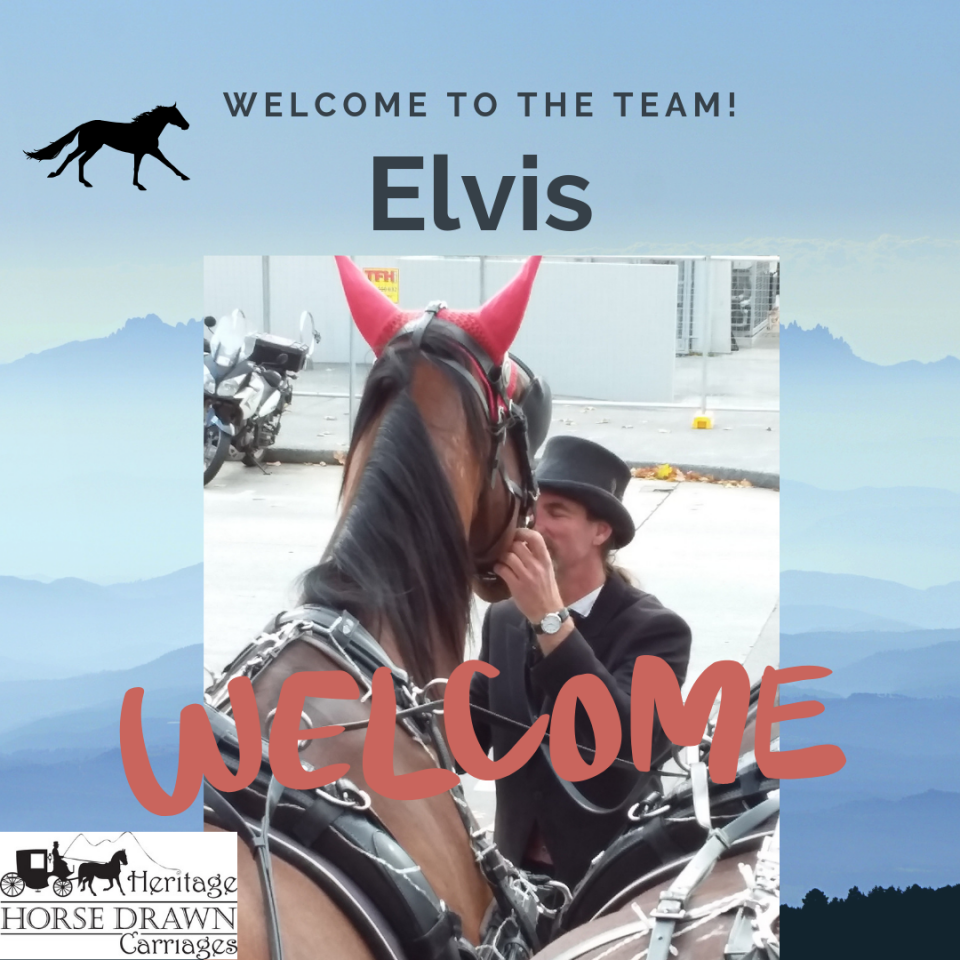 He's so cool, we're going to buy him blue suede shoes!  Elvis, you've already got a legion of fans, even though you've only been performing in Hobart a handful of times.  Originally from Victoria, we were lucky enough to be offered Elvis (racing name – Presley Castle) through the HRV Hero Program from Harness Racing Victoria.  HRV Hero's aim is to rehome ex-harness racing horses and they do often have trouble rehoming the "big boys".  And, Elvis is BIG!  Standing at over 17 hands, Elvis is an imposing figure but his calm nature and kind heart are just as big.