Are you looking for a unique and memorable way to see Hobart?  Nothing can compare to a horse and carriage ride through our beautiful Waterfront or Battery Point.  We take our time so you can appreciate everything but there are plenty of "hold on to your hat" moments, especially if you come along for our Battery Point Jaunt!
Autumn is in the air!  Already the leaves have started to fall but don't worry about the cool weather just yet.  Early autumn weather in Hobart is generally mild and stable.  The days are sunny and the nights just have enough chill to remind you of the winter yet to come.  No matter what the season, you can enjoy a carriage ride.
We've been waiting a while but now we can let out our secret!  We've added a touch of magic to our carriage tours.  To really make your next birthday celebration or special occasion memorable, we can now offer your carriage to be escorted by two fantastic unicorns.  Complete with antique gold horns, floating butterflies and striking livery, our Unicorn Option, also comes with a special gift for the birthday person and treats all round.  A $25 option which can be added to either our Salamanca or Waterfront Jaunts.  Bookings essential please.  (We have to get our unicorns all the way from the Enchanted Forest!)
Tour Pricing
Carriage rides are affordable for everyone.  We don't price our tours per person, but base it on the tour you take.  We have developed four different tours – one for every time schedule and budget.  You can also customise your tours.  You can add a Tasmanian Indulgence option or how about enjoying all we have to offer with a Trot Through Time? Contact us and we can organise a tour just for you.  Our carriage comfortably sits 4-5 adults,  or 2 adults and 4 children.  Contact us for options with a larger group.
Salamanca Jaunt – 15 minutes – $60

Waterfront Jaunt – 30 minutes – $90

Battery Point Jaunt – 1 hour – $180

Trot Through Time – 1.5 hours – $270 (includes copy of Discovering Hobart book)

Romance Option – $40 in addition to tour cost

Tasmanian Indulgence Option – $60 in addition to tour cost
Hence, you can take a party of four people on an hour long Battery Point jaunt and it will only cost $45.00 per head.  The experience, though, is priceless!  
Please see below for details on each of our tours.
Fourth is Free!
If you loved your carriage ride, why not come along again and again and then your fourth ride will be free.  Your fourth free ride will be an average of the three previous rides or you may like to upgrade by paying the difference.  Just ask us for a Frequent Riders' Card.
Special Needs?
Not only do we endeavour to meet your special requests, we are happy to have guests with any special needs.  A carriage ride is an experience everybody, regardless of ability, is able to enjoy and remember.  Please feel free to call us and let us know your situation.  Customers with assistance dogs and those with mobility impairment can be catered for.
As our times and days we operate change due to various circumstances, please consult our roster below which is regularly updated.  If the day you are seeking is not yet on our roster, please call us to confirm.  Saturday evenings (6.00-7.30pm) are by appointment only.
HERITAGE HORSE DRAWN CARRIAGES PTY LTD
FEBRUARY /MARCH ROSTER

| | | | |
| --- | --- | --- | --- |
| Date | First Tour Departs | Last Tour Departs | Details |
Thursday 21 February
 11.00AM
 5.30PM
CRUISE SHIP IN PORT
Friday 22 February
12.00PM
Saturday 23 February
11.00AM
6.00PM
Sunday 24 February
12.00PM
 6.00PM
Thursday 28 February
11.00AM
5.30PM
CRUISE SHIP IN PORT
Friday 1 March
12.00PM
6.00PM
Saturday 2 March
11.00AM
6.00PM
Sunday 4 March
12.00PM
6.00PM
Wednesday 6 March
11.00AM
5.30PM
CRUISE SHIP IN PORT
Friday 8 March
12.00PM
6.00PM
Saturday 9 March
11.00AM
6.00PM
Salamanca Jaunts

A jaunt around the iconic Salamanca Place, past majestic Parliament House and onto Franklin Wharf and Constitution Dock.  A great tour for families.  Photos mandatory!  Salamanca Place is one of the best preserved colonial streetscapes in Australia.  In the 1830s, it was a busy wharf, where ships tied up to be loaded and unloaded of their cargo for the new colony.  Today, the sandstone buildings of Salamanca contain art galleries, restaurants and a theatre precinct.  Salamanca is also home to the famous Salamanca Market, held every Saturday since 1972. 
A great way to experience the magic of a carriage ride for young and old alike.  Children are welcome to pat our horses and maybe even sit up with the driver for a photo.  A carriage ride will create a memory for your family that will last a lifetime. 
Our carriage can comfortably take 4 adults or 2 adults and 4 children.  Salamanca Jaunts run for around 15-20 minutes and cost $60.00 per tour.
Waterfront Jaunts

Passing through the bustling Hobart waterfront over to the historic stone IXL building and the Cruise Terminals, this jaunt gives you a real appreciation of Hobart's connection to the sea and the mountains with Mt Wellington looming behind the city.  This area of the Waterfront was the site of the first settlement of Hobart in 1804.  Hunter Island has now become Hunter Street and the IXL Jam Factory is now the Henry Jones' Art Hotel.  Such wonderful repurposing of these architecturally valuable buildings has seen them live into the 21st Century and beyond.  
This tour is a real favourite with families.  Some lucky passengers even get to spot our resident harbour seal!  One thing is certain, you'll see lots of happy and excited faces and people waving to you as we pass them by!   You'll be able to practice your royal wave as you travel in our sumptuous carriage.  The Waterfront by night is just beautiful and romantic.   A 30 minute tour which costs $90.00 per tour.
Battery Point Jaunts
These tours run for an hour and take in Salamanca Place and the charming streets of historic Battery Point village.  Battery Point is a little known Australian treasure.  Nowhere else in the country will you see such a variety of early colonial architecture preserved so perfectly.  There are impressive stone mansions with expansive gardens right next to tiny workers' cottages built right on the street.  It's just like an English village transported to Australia.  Battery Point's preservation was ensured through the hard work of the Battery Point Progress Association and, today, strict rules govern any development in the area.
On this tour, you'll be immersed in the atmosphere of 19th Century Hobart and it's easy to imagine life in Georgian and Victorian times when you ride in our vis-a-vis landau driven by the carriage driver in authentic livery.  You'll be able to appreciate the beauty of this unique area from a perspective that can't be reproduced by driving in a car or even walking.  We'll wind our way through the narrow streets, stopping from time to time to tell you a little more and allowing you the opportunity to take photos or to absorb the atmosphere.
For those chilly days, you can even have a hot chocolate or coffee delivered straight to your carriage to enjoy along the way.  Our driver will give you an informative commentary on the rich history of the area.  
Battery Point tours cost $180.00 per tour.   We do recommend this tour for adults and older children.  For more information on Battery Point, please go to our Battery Point page http://www.hobarthorsetours.com.au/a-short-history-of-hobarts-battery-point/
Trot Through Time
If you love history, you'll love this tour.  This tour is fast becoming one of the most popular tours in Hobart.  Combining our Battery Point Jaunt and Waterfront Jaunt into a 1.5 hour tour which gives you the best Hobart can offer.  We'll give you an in-depth commentary of Hobart's fascinating history.  You'll also receive a beautiful hard cover book, Discovering Hobart (valued at $35.00 RRP) to take home with you so that you can remember all the wonderful sights from your tour.  It may even prompt you to do a little more discovering of Hobart.  You can also combine the Trot Through Time with either our Romance or Tasmanian Indulgence Packages to really enjoy your taste of colonial history.  Our Trot Through Time tour costs $270.00 per carriage with one copy of the book per tour.  Bookings essential please.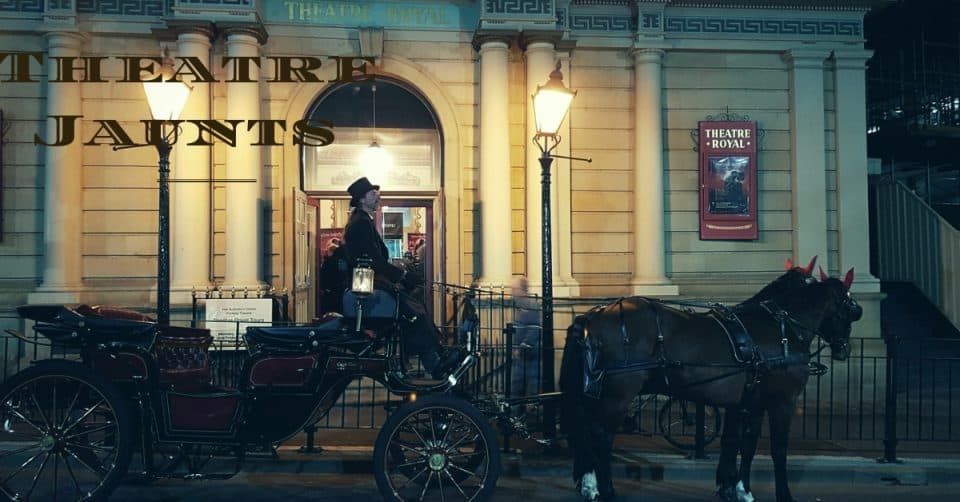 Theatre Jaunts
The Theatre Royal is the oldest continuously operating theatre in Australia.  Built in 1837 and designed by John Lee Archer, who also designed many of the other buildings you'll see on your tour, the Theatre Royal has seen four major renovations in its lifetime, and, in the 1940s was almost demolished, it had fallen into such a state of disrepair.  A speech from the great Sir Laurence Olivier inspired its reprieve and the Theatre Royal today survives and flourishes, hosting plays, concerts, opera and ballet.
If you would love to arrive at your Theatre performance the way the Theatre Royal patrons would have in its original heyday, we can take you on a Theatre Jaunt.  This half hour tour will cover the Waterfront area of Hobart and then take you up to the CBD and to the entrance of the Theatre in time for your performance.  Maximum of 4 adults on this tour and bookings are essential please.  Theatre Jaunts are $100 per carriage.
Tasmanian Indulgence Package
It makes sense to enjoy the best Tasmanian produce during your visit.  Not only can you enjoy your carriage ride around Battery Point or the Waterfront, but you can sip Stefano Lubiana's (Derwent Valley) NV Brut and nibble on delectable Norman & Dann chocolates while you do so.  Decadent but so affordable and a great memory of your Tasmanian holiday.  Just $60 in addition to your tour cost.  Bookings essential please.
Romance Tours
Thinking of surprising your loved one?  Whether it is a marriage proposal or just to say I love you, what could be more romantic than a horse and carriage ride with champagne and chocolates?  You have the choice of our Romance package with mainland sparkling wine and Norman & Dann chocolates for $40 in addition to your tour or our Indulgence Package with Stefano Lubiana NV Brut and Norman & Dann chocolates for $60 extra.  We can cater for your every whim….Bookings essential!
Royal Afternoon Tea at Hadley's Orient Hotel
For more information on Royal Afternoon Tea Carriage Tours
A Special Gift for Christmas or any occasion…
It doesn't matter what the occasion is – birthdays, anniversaries, proposals….you can show your loved one you care by treating them to a carriage ride.    Contact us now via email or phone 0408 763 392 to book.
Want to give a gift voucher?  Gift vouchers are a fantastic way to give a present that is always appreciated.  We can cater for all budgets and the lucky recipient can choose when they would like to enjoy their carriage ride.  Just drop us a line by email or phone to arrange and your gift voucher will be posted to you or your recipient.
 Every Occasion is an occasion for a horse and carriage!
If you can think of an occasion, we can be there.  Birthdays, family reunions, engagements…..the list is endless.  We can supply the bubbly, chocolates and a great time to be had by all in your party.
Group Bookings for Historic Town Tours
Would your group like to tour historic towns such as Richmond, Ross or Oatlands?  These towns are like a step back in time and are well worth a visit.  We can run carriage tours of these towns, showing the highlights from the comfort and ease of a carriage. Ideal for seniors' groups.  Bookings essential.
Corporate Events
Want to make that next function a truly memorable one?  Everybody remembers the sights and sounds of a horse drawn carriage.  We can cater for Christmas parties, corporate events, festivals.  In fact, if you can organise it, we can be there!
 Weddings and School Formals
Of course, we cater for weddings!  We can make your wedding, engagement, school formal or any special occasion memorable.  Enjoy the day from our open vis-à-vis carriage (which can be closed in inclement weather) or, for that extra luxury, our white wedding coach is the way for any bride to feel like a princess on her special day.
We can travel to anywhere in Tasmania to make your dreams come true.  If you have a large bridal party that you would like to cater for, we are happy to use both our carriages.  Click here to go to our Weddings page   http://www.hobarthorsetours.com.au/weddings/
Complimentary champagne and chocolates or berry platter (in season) for the bride and groom.
For School Formals, we can guarantee heads will turn when you arrive in either the white coach or the black landau, driven by a pair of matched horses.  We also travel to formals anywhere in the state.  School formal season is extremely busy, so please book early.