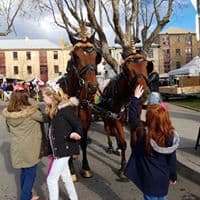 Our new Unicorn Option on our tours has proved very popular.  With a wave of a magic wand, we transform our horses into unicorns from the Enchanted Forest, complete with antique gold horns, fluttering butterflies and rainbow livery.
You can add this option to either our Salamanca or Waterfront Jaunts for just $30 in addition to the tour cost.  This is a great surprise for a birthday girl or boy (or any other special occasion!)  We'll even make sure there is a gift for the special person and sweets for their guests.
The debut of our unicorns definitely turned heads.  Children everywhere gasped and clapped as the unicorns pranced their way over to Salamanca and crowds surrounded us once we reached our departure point.
If you'd like to bring a touch of fantasy to your next special occasion, just add the option to your online booking and we can arrange for unicorns to transform your carriage ride into a magical tour never to be forgotten!